Our accounting software developed with advanced and the latest technology. Our free accounting software makes easy and accurate GST calculations, report generations, GST , and many more. It manages your all business accounts easily and efficiently. Our accounting software is best suited for accountants, small and medium-sized business.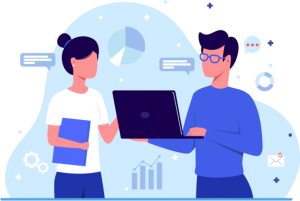 Features of Our Accounting Software
Try our User-Friendly Billing Software Today!
Gross Account allows you to generate both GST/Non-GST invoices. Add any number of items/services with different tax rates in the same invoice. You can also add your business logo and signature on your invoices to make it more professional and then share it with your customers.
your stock availability anytime with our free stock management software. Manage all the stock inventory, organize products. Use our inventory management software to track and monitor stock movements, sales, purchases and invest in best selling products to increase your small business revenue.
Different customers have different requirements. If you have your business in other cities, and you need to maintain all the data through one system, then Gross Account provides you an online software configure facility. Our accounting software also provides offline software configure. The choice is yours!
Our accounting software provides a Barcode & QR code facility. You can manage all product stock through barcode or QR code. No need to write down anything, add your product barcode, or you can use a QR code scanning facility to maintain all the stock management through our accounting software.
Business information needs to keep private and secure. With our accounting software, your data is 100% safe with "Auto backup" functionality. Keep your updated business data safe at all times and retrieve them back whenever you need. Your data is kept safe & secure. We don't sell/share your data with anyone else.
Our accounting software generates accurate GST returns monthly, quarterly and annually. Generate reports like GSTR-1, GSTR-2, GSTR-3B, GSTR-9 make GST reporting easier for both sellers and buyers. Gross Accounts also generate accurate reports like Profit and Loss reports, Party Statement, Inventory Reports, Sale and Purchase reports and much more.
This feature is useful. You can directly share any invoice at any time by adding your clients or CA whatsapp number. So, our accounting software makes it easy for you to share an invoice.
Our accounting software is developed with advanced features. Once you enable auto email notification, our software automatically sends you an email regarding the activity you have done.
Our main aim is to help a customer by providing our dedicated and free support. We are available 24*7 for any help. Personalized technical support via mail, chat support or call. The gross account is glad to help you & solve your doubts.
With Gross accounting software, you can import all data from excel in one shot very easily without any errors. Avoid entering data one by one manually use this GST accounting software for desktop.
Our accounting software does have facilities for printing. We have set by default theme for billing print. But you can customize bills by adding your company logo, name, address, etc
One can register different sales and purchases by using our accounting software. You can get all the details from our single accounting software in one place regarding sales and purchases.
Gross Accounting Software is a cost saving products as pay for onetime and use lifetime. We provide the license with lifetime use for a system. You can use Gross Accounting Software for as long as you like, use all the features and enter as much data as required.
Generate sales or estimates, issue purchase orders as per needs. Also the software automatically converts sales quotation to sales invoice and purchase quotation to purchase invoice. Receive orders from your clients and provide them professional sale effortlessly and instantly. The best accounting software for desktop to keep on the status of each and every at all times and help you meet all orders on time.
If you have a large business, it would be challenging to manually maintain all your business transaction data. Our bookkeeping software helps to keep your business's transaction details like sales, purchase, quotation, orders, cash transaction, and bank transaction details in one system.
Gross Accounting Software is a cost saving products as pay for onetime and One can easily manage sales orders tracking through our accounting software with this unique feature. If your sales is too large and you decided to send it in divided stock, you can easily manage all your tracking with complete reports.
Nowadays, GST reports are a compulsion for businesses. Our GST accounting software can help you to get accurate GST reports for your business. One can easily get detailed GST reports through our GST accounting software.
Our free GST accounting software provides you all the accounting reports like trading, profit & loss, balance sheet, etc. Use our best accounting software to get all-in-one, accurate accounting reports.
Our accounting software helps to create copy vouchers for the same in just one click. If you have delivered the same product in the same stock, then there is no need to create a different invoice. You can copy vouchers & get all things done quickly.
The stock management process is too complicated for larger businesses. How much stock do you have? How many deliveries have you done! But no need to worry! Use free stock management software to manage all stock details such as pending, delivered, not available in one system.
This feature is best suitable for any manufacturing company. They can easily manage product stock tracking assembly wise. Having many assembled products is hard to manage all the product stock, so our accounting software makes it easy for you to manage stock.
Our accounting software does have a facility for cheque printing and envelope printing. No need to create any cheque manually; you can easily print any cheque or envelope through Gross account software
A large business that means too many parties to handle. Our accounting software gives you the best features. You can set different pricing for different parties. According to your need, you can set different prices for various parties.
Let say you got one quotation, and you successfully delivered your . Now the main concern is the sales invoice! If you are managing this process manually, you need to create a sales invoice manually. But here, our accounting software automatically provides you the feature to generate any invoice from any quotation.
Having a large business that means too many roles are there to support. Our accounting software provides you the best feature as user wise security. You can easily manage different users with different needs. If you wish to put some data private from your as an owner of a business, then our software does provide that facility.
GST number is compulsory for any registered business. Our accounting software gives you an inbuilt feature as a GST number validation. You have to add the GST number in our software and that will verify the GST number automatically.
Having a different serial or batch number of the products makes it tough to manage your stock data. Our accounting software makes it simple for you. Just add the serial or batch number of the products; the Gross account will automatically collect other data.
Our accounting software has an attractive graphical user interface. You can change any themes as per your choice.
One can easily create any receipt at any time through our accounting software.
Our advanced accounting software gives you an in-built facility to find all the bank data by adding IFSC code or branch code.
Our accounting software gives you all the details regarding advance payment, half payment, accounting details, profit & loss ratio, etc.
Get party wise details reports by using our accounting software. One can get detailed reports of different parties in one system.
Our accounting software provides the best feature of Multi-Location Facility. One can use our accounting software and access it from anywhere and anytime.
POS system stands for Point Of Sales(POS) system. POS systems enable the business transaction between the clients & company to complete.
Gross Account is the best accounting software provider in Rajkot, Gujarat, India. Our accounting software is developed with the latest and advanced technology.
A gross account is the best accounting software as it gives the latest features that reduce human resources and minimize errors.
One can manage all the inventory of their business by using inventory management software.